About Us
YOU'LL FIND US
AS PIONEERS
IN WATER SYSTEMS
When it comes to water systems technology, you'll find there's no limit to our expertise and innovative capabilities.
C.A.K Tanks are the UK's largest and most established Manufacturer of water, waste & toilet tanks for the Motorhome, Specialist Vehicle and Marine industries.
C.A.K Tanks is the leader in mobile water storage systems for over 40 years. We pioneered the technology and continue to be the industry benchmark for high quality solutions.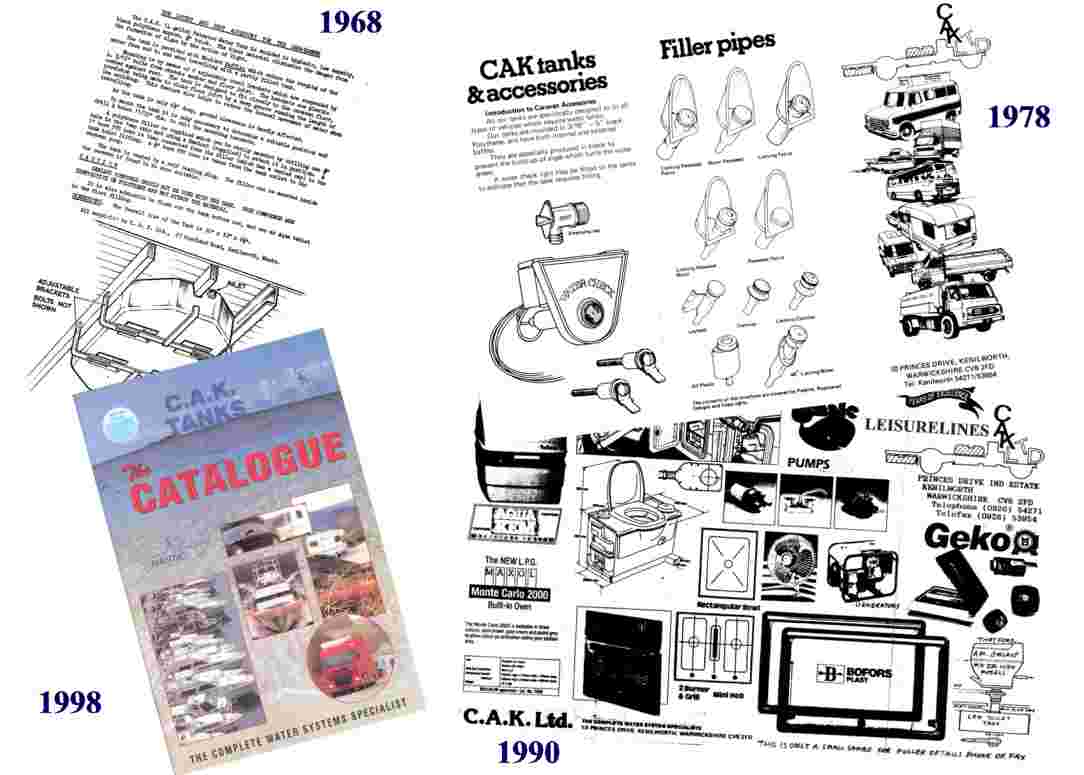 We have a proven track record as innovators, delivering value for money in high quality water systems, LED lighting, and interior living equipment. And that record continues in an evolving world of new vehicle types and changing model environments.
Whatever your needs, you can trust C.A.K Tanks – both now and in the future. We're already pioneering technology for the next generation.
We are a bright an innovative company, placing emphasis on providing the right product at the right price BUT without cutting corners in customer service or quality. We operate a full warehousing and manufacturing plant in Warwickshire, and have full time telephone operators, technical support and despatch staff - ensuring all questions, enquiries and orders are processed both quickly and accurately.

Over the past 40 years C.A.K Tanks have pioneered development in the mobile water storage tank market. Through a successful range of products in this sector, which have been continuously developed into today's huge range.
Having developed a very good understanding of the UK market, we also have a comprehensive range of other products which are designed to meet these demands. They range from Dometic SMEV cooking appliances, Thetford sanitation products to CBE electrical systems and much more.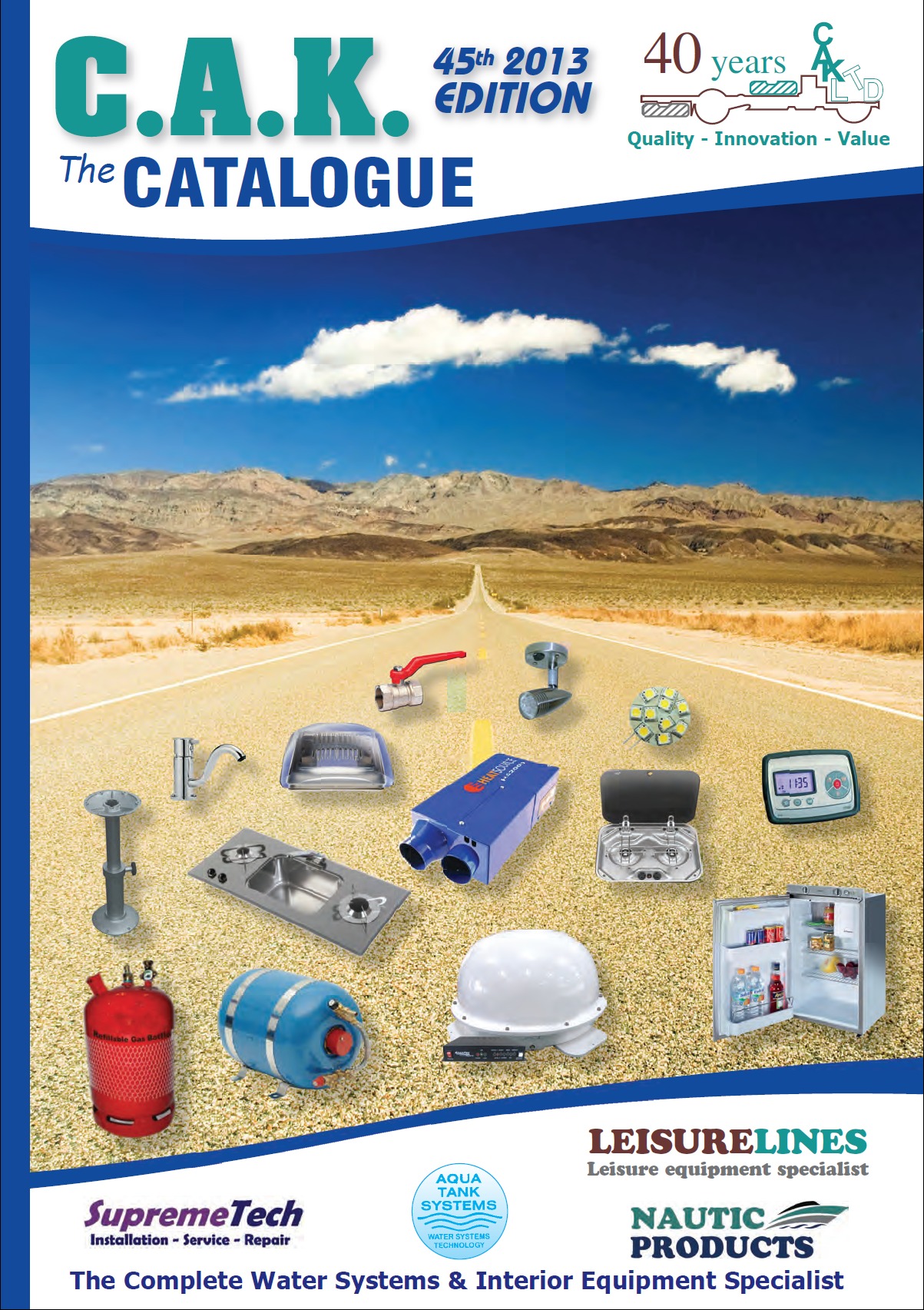 See our comprehensive online web shop
LeisureLines.net
for full details.
Download our old school 2013 catalogue in PDF format with the link to the left..
Its a little out of date but still very useful!!
C.A.K TANKS THE PREMIER SOURCE FOR ESSENTIAL MOTORHOME, CARAVAN & MARINE EQUIPMENT
THE COMPLETE WATER SYSTEMS AND INTERIOR EQUIPMENT SPECIALIST
QUALITY - INNOVATION - VALUE
In Water Systems and Interior Equipment
C.A.K. Tanks Water Systems
We have specialised for over 40 years in the manufacture & supply of water storage systems for original equipment and aftermarket installation.

We developed the first plastic water storage tanks for Caravans, Motor-Homes and Marine applications, with our own revolutionary designs and patented C.A.K. Tanks Anti-Surge Baffles.
Years of continuous design, development and manufacture have formulated the renowned quality and reliability of C.A.K. Tanks Water Storage Systems.

Our vast range of solutions & superior technical knowledge has enabled us to develop our ever expanding range of water systems making C.A.K. Tanks THE COMPLETE WATER SYSTEMS SPECIALIST
MANUFACTURING SINCE 1968
Leisure Equipment Specialist
Interior Equipment & Spare Parts
To complement our water systems expertise we also have extensive stocks of :- Water pumps, Taps, Showers, Fittings, Hose, Air and Water Heaters, Vents, Webasto Heating systems, LED Internal and external lighting, SMEV high quality kitchen appliances, CBE high specification Electrical control and charging systems, Thetford Cassette, C200, C250, C400, Porta Potti, Galaxy, Starlite, Mk IV, MK V, Electra Magic and American Toilet Range, Thetford Chemicals and Maintenance products, Vitrifrigo DC Compressor Freezers & Refrigerators, Dometic & Thetford Gas 3 way Refrigerators, Air Conditioning, Bathroom Sinks, Cabinets & Shower Trays, Table legs, Catches Locks, Furniture Fittings, Seat swivels, Seitz Heki Rooflights, Gaslow LPG refillable bottles, SmartliteTM Interior Lighting Range, LED replacement bulbs, Boat and Caravan Mains Electric Water Heaters, Reversing Cameras, Bunk ladders, Internal cab window Thermal ScreensTM, Bilge and Macerator pumps, Cassette Blinds, Hatches, Doors, Roof vents, Cassette Blinds, Stabilising Jacks, Honda Eu10i Generators and many more items too numerous to list.

Buy securely online
Leisure Equipment Specialist
Interior Equipment & Spare Parts Online Shop
C.A.K TANKS THE PREMIER SOURCE FOR ESSENTIAL MOTORHOME, CARAVAN & MARINE EQUIPMENT.
2008 was a very special year for us, our
40th Anniversary
.