SEE US AT FEBRUARY & OCTOBER NEC SHOWS
Buy securely online
Leisure Equipment Specialist
Interior Equipment & Spare Parts Online Shop
Click on the coloured band below to download a PDF of this catalogue section
SLIDE EZ-VALVES

AQUA MAGIC V

BRAVURA

ELECTRA MAGIC

SOG

THETFORD

PORTA POTTI'S

CASSETTES

C200 CASSETTE

C250 CASSETTE

SPARES

DOMETIC

C400 CASSETTE

BASE TANKS

CHEMICALS

SERVICE DOORS

MAINTENANCE

CT3000 CASSETTE
WE ARE THETFORD'S PREMIER SPARES CENTRE. WE ARE ABLE TO SUPPLY ANY THETFORD SPARE PART THAT IS CURRENTLY AVAILABLE & QUITE A RANGE OF OBSOLETE PARTS.
CASSETTE C-200 SWIVEL BOWL
The elegant, domestic bathroom style bowl of the Thetford Cassette C-200 can be swivelled through 180 degrees on its pedestal locking securely at any stage the user chooses. So the toilet can be fitted freestanding against any single wall in the vehicle bathroom area. And the bowl can be swivelled away after use to liberate space. A led signal that lights automatically when the holding tank is nearly full, and a contoured shape that shrugs off shower water are amongst other unique features.
C200CS uses water directly from the fresh cold water supply system in the vehicle.
Suitable for pressurised and micro switched water systems.
C200CW uses water manually pumped from its built in fresh water tank within toilet. Toilet requires a water fill door installed on outside in addition to door used for cassette base tank removal.
C200CWE has similar features to the C200CW with the addition of touch button electric flush.

THETFORD C200 TOILET BOXED INSTALLATION KITS INC DOOR
TLTC200CS CASSETTE C200CS DIRECT ELECTRIC WHITE + DOOR 3
TLTC200CW CASSETTE C200CW MANUAL WHITE + WATERFILL & DOOR 3
TLTC200CWE CASSETTE C200CWE ELECTRIC WHITE + WATERFILL & DOOR 3

THETFORD C200 TOILET & WASTE CASSETTE ONLY NO DOOR OR ACCESSORIES
TLTC200CSND CASSETTE C200CS DIRECT ELECTRIC WHITE NO DOOR
TLTC200CWND CASSETTE C200CW MANUAL WHITE NO DOOR
TLTC200CWEND CASSETTE C200CWE ELECTRIC WHITE NO DOOR
23786 Optional outside vent kit for C200.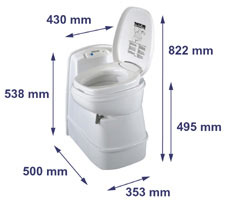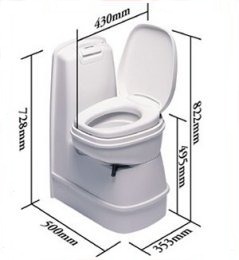 THETFORD C200CS THETFORD C200CW / CWE
C200 Cassette Specifications
Model
C200CW
C200CWE
C200CS
Flush Method
Manual
Electric
Electric
Waste Tank Capacity
17 Ltr
17 Ltr
17 Ltr
Flush Water Capacity
7 Ltr
7 Ltr
Direct Flush
Colour
White
White
White
CASSETTE C400 RANGE
New elegantly designed bench model toilet for caravans and motorhomes. The award winning C400 range are elegantly designed toilets to match modern bathrooms.
Packed with innovative features such as the holding tank with wheels and a retractable carrying handle. Not as an option but standard on all C400 models. Stable thermoplastic rubber treaded wheels allow easy and reliable transport of the waste holding tank. Toilet waste holding tank transport with an ease never experienced before. The removable mechanism plate allows easy access to the waste holding tank inner for cleaning or service, a major feature of the C-400. No more fumbling in the dark! Comfortable seating position higher and deeper than models before, allowing
for more comfort when in use. Plus more space for the feet due to the recessed base. Really practical in an often confined vehicle bathroom. The flowing curved shape allowing easy cleaning, leaving no dirt traps.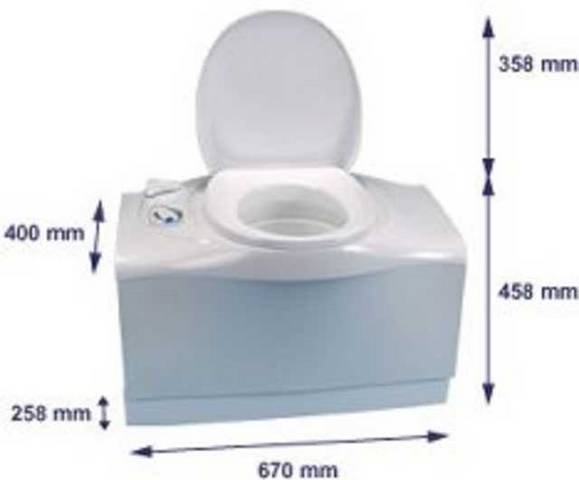 C400 Range Key Features
• Finish: white (RAL 9003)
• Electric touch button flush (12V)
• Waste holding tank with integrated wheels
• Waste tank with handy extendable carry / pull handle
• Removable plate allows access to waste tank interior for easy cleaning and service
• Integrated pour-out-spout: no handling of separate parts that get dirty
• Waste tank vent button allowing splash free emptying
• Weight: 8,5 kg
Cassette C402C
The starter model in the range, the Cassette C402C toilet has an integrated freshwater tank, powerful touch button electric flush and single led high level indicator for waste holding tank only. Easy waste transport: holding tank on wheels! Optional external vent.
Features:
• LED display indicates fill level of waste tank
• Waste tank capacity: 19,3L
• Integral freshwater tank capacity: 15L
TLTC402CL CASSETTE C402C LEFT HAND & DOOR 3
TLTC402CR CASSETTE C402C RIGHT HAND & DOOR 3

Cassette C402X
The Cassette C402X toilet has an integrated freshwater tank, powerful touch button electric flush and led level indicators for waste holding tank and flushwater tank. Easy waste transport: holding tank on wheels! A quick touch the flush button and the LED level indicator system displays how much capacity is still available in both flushwater tank and waste tank. Optional external vent. This is our most popular C400.
Features:
• LED display indicates fill level of waste tank and flush water tank in 3 steps
• Waste tank capacity: 19,3L
• Integral freshwater tank capacity: 15L
TLTC402XLD3 CASSETTE C402X LEFT HAND & DOOR 3
TLTC402XRD3 CASSETTE C402X RIGHT HAND & DOOR 3

Cassette C403L
The Cassette C403L toilet hooks up to the central water tank of the vehicle. Touch button electric flush. Easy waste transport: holding tank on wheels! A quick touch the flush button and the LED level indicator system displays how much capacity is still available in the waste holding tank. External venting of waste tank standard.
Features:
• LED display indicates fill level of waste tank 3 steps
• Waste tank capacity: 19,3L
• No integrated freshwater tank. Toilet connected to central water system of caravan or motorhome. Direct flush.
TLTC403LLD3 CASSETTE C403L LEFT HAND & DOOR 3
TLTC403LRD3 CASSETTE C403L RIGHT HAND & DOOR 3
NEW THETFORD CASSETTE C260
The C260 Cassette Toilet is a 'facelift' the C250 Cassette Toilet. With its 2 x 90 degree revolving toilet bowl, the C-260 has several exciting new, improved features and a contemporary design. A more stable seat & cover, easier to clean bowl design and an improved flush are some examples. This toilet is also available with a full ceramic
bowl for a true home-like sanitary experience. Enhanced seating comfort: the toilet bowl width and depth have been adjusted to provide maximum comfort. • A wasteholding tank (17.5L) on wheels with a pull-out handle. • A user-friendly control panel. C262CWE with integrated 8 L flush water tank. Packed Complete with Thetford Door 3 and accessories in kit.

TLTC263CS C263CS DRAWS FLUSH WATER FROM ONBOARD PUMPED WATER SYSTEM
TLTC262CWE C262CWE ELECTRIC FLUSH FROM INTEGRATED FLUSH WATER
TLTC263CSC C263CS CERAMIC BOWL DRAWS FLUSH WATER FROM ONBOARD PUMPED WATER SYSTEM
TLTC262CWEC C262CWE CERAMIC BOWL ELECTRIC FLUSH FROM INTEGRATED FLUSH WATER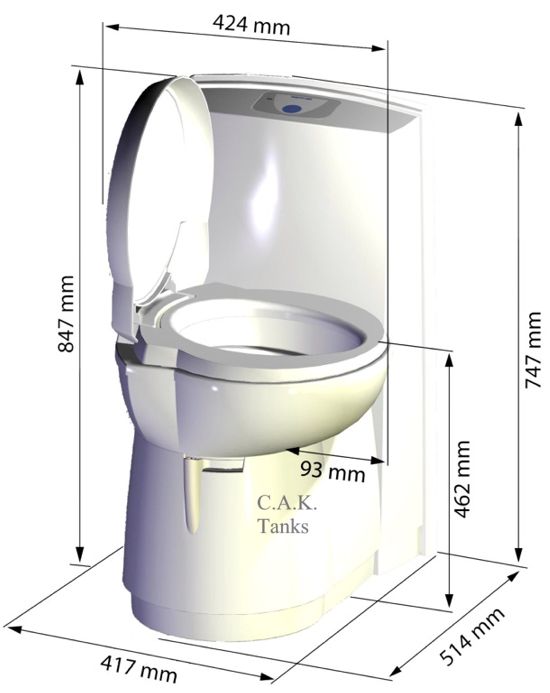 SOG SYSTEM – Chemical free operation of your toilet system
The SOG toilet ventilation kit converts your Thetford toilet into a chemical-free system which is not only a completely green solution but also banishes smells from the interior of your unit. No chemical smells and no smells from waste matter, even during use of the toilet. Toilet chemicals are no longer necessary and optimal decomposition is guaranteed by the increased flow of Oxygen. You can also use ordinary toilet paper. Supplied as a very simple diy-fit kit.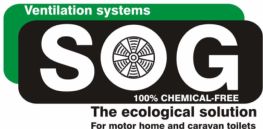 Spare SOG parts and additional connectors available from our stock contact us for further information
| | |
| --- | --- |
| | |
| SOGA for Thetford Cassette Toilets C2 C3 C4 | SOGB for Thetford Cassette Toilet C200 |
| | |
| --- | --- |
| | |
| SOGF for Thetford Cassette Toilets C250 & C260 | SOG3000A for Dometic Toilet CTS3110 & CTW3110 |
| | |
| --- | --- |
| | |
| SOGC for Thetford Porta Potti Toilets | SOGPERM for Permanent Fixed toilet Holding tanks |
| | |
| --- | --- |
| | |
| SOGD for Thetford Cassette Toilets C400 | SOGG for Thetford Cassette Toilet C500 |
SPARE CASSETTE BASE TANKS
All our base tanks are new original products from Thetford. They will come correctly handed as per your ordered hand. You will not need to modify or dismantle them; they will glide straight in ready for use. To identify the handing of your required base tank, it is handed by describing the end of the toilet where the door is to remove the cassette. This handing is described as seated on the toilet NOT AS LOOKING AT IT. This does not apply to the C200 & C250 swivel bowl units as their base tanks only slide in one way. You can identify which model toilet you have by locating the silver and blue Thetford serial number label just inside the door end of the toilet.
Spare base tank for C200 series swivel bowl all models.
TLTC200BTANK C200 base tank complete

C2, C3, C4 FIXED BOWL OLDER BENCH MODEL

This is the base tank for the older model bench toilet. Handing is identified as seated
on the toilet.
TLTC234BTNKL C2, C3, C4 LEFT HAND BASE TANK.
TLTC234BTNKR C2, C3, C4 RIGHT HAND BASE TANK.
C250 / C260 SWIVEL BOWL
Spare base tank for New C250/C260 series swivel bowl all models. This model base
tank is complete with wheels.

TLTC250BTNKC250 base tank complete (Wheeled model).

C400 SPARE BASE TANKS & ACCESSORIES
This is the base tank for the newer model C400 bench toilet as described
above. Handing is identified as seated on the toilet.
TLTC400BTANKL C400 LEFT HAND BASE TANK (Wheeled model)
TLTC400BTANKR C400 RIGHT HAND BASE TANK (Wheeled model)
TLTC400VENT C400 THRU FLOOR OUTSIDE VENT

Handing is identified as seated on the toilet.
TLTC500BTKR C500 BASE TANK RIGHT HAND
TLTC500BTKL C500 BASE TANK LEFT HAND


NEW PORTA POTTI EXCELLENCE
The Porta Potti Excellence has by far the most striking design and innovative features of all. The Porta Potti excellence has a Modern design, more homelike toilet shape with a Comfortable seating height (440 mm), Bigger bowl size, mainly in depth and width, User friendly valve handle at side, Integrated toilet paper holder, Flush-water & waste water level indicators, Cover controls (for piston pump, water fill cap, water level indication), Water fill adaptor and Improved carry handle of the water tank. White, Ivory and Ruby red with manual piston pump or Granite with battery operated
electric pump (six 1.5v AA batteries enough for 500 to 700 flushes) Waste tank capacity 21L, flush water capacity 15L, Seating height 443mm, height 458 x width
388mm x depth 450mm
TLPPEXMW PORTA POTTI EXCELLENCE MANUAL WHITE
TLPPEXMY PORTA POTTI EXCELLENCE MANUAL IVORY
TLPPEXMR PORTA POTTI EXCELLENCE MANUAL RUBY
TLPPEXEG PORTA POTTI EXCELLENCE ELECTRIC GRANITE
TLTPPEXMP FLOOR MOUNTING PLATE FOR PP EXCELLENCE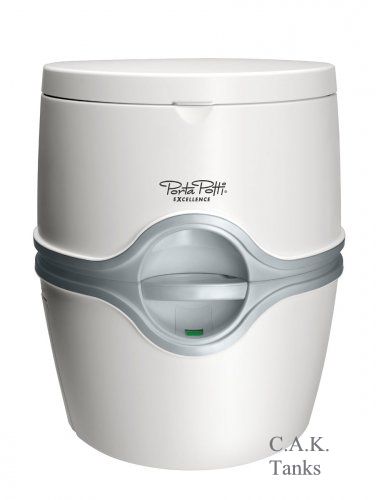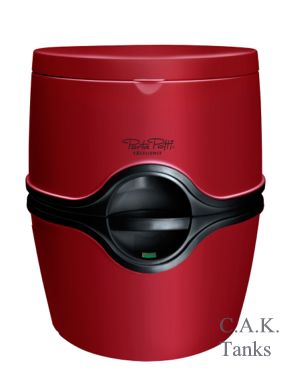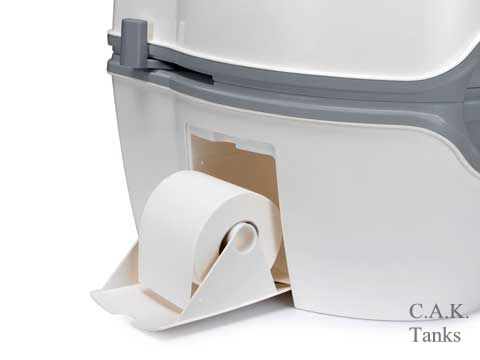 NEW PORTA POTTI QUBE
Porta Potti Qube forms the basis for our new generation of durable portable toilets. We guarantee all the quality you have become accustomed to, transformed into a new and fresh design. The smooth lines and subtle curves are not just important towards the appearance of our toilets; they also provide optimum comfort and ease of use. The toilets are equipped with an integrated cover lock, a recess for opening the cover, an improved blade opener as well as a more comfortable handle on the waste-holding tank. The stopper on the waste-holding tank holds the emptying spout in position, making it easier to mount one tank on top of the other. Our Porta Potti's come with a three year warranty. HOLD DOWN BRACKET INCLUDED WITH PPQ335 OPTIONAL KIT
AVAILABLE for PPQ365.
All Thetford Porta Potti and Cassette toilets have the swivelling pour out spout system and pressure release button for splash free emptying.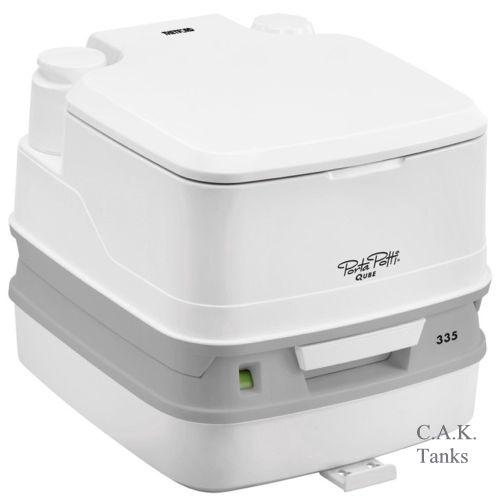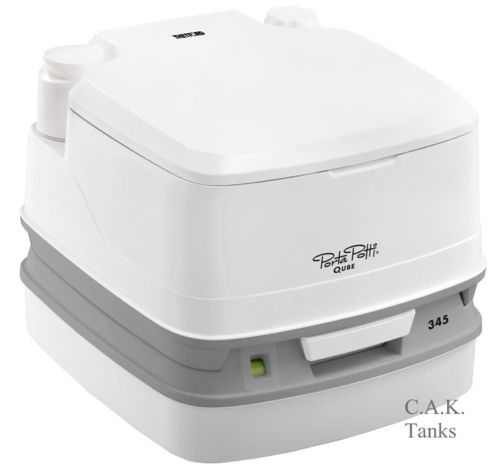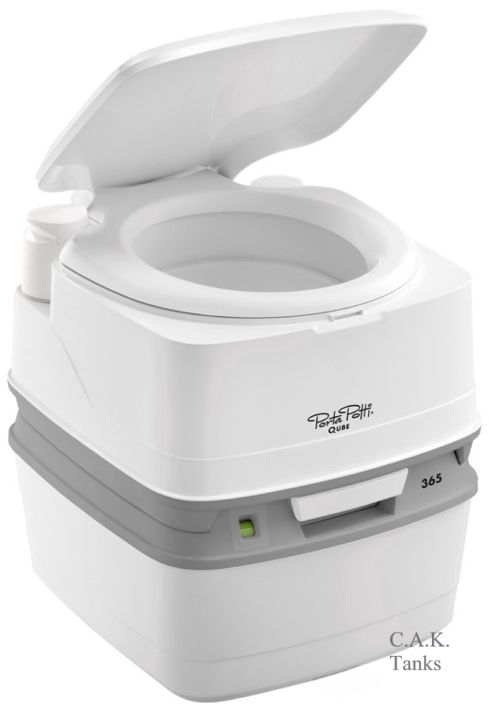 PP Qube 335 PP Qube 345 PP Qube 365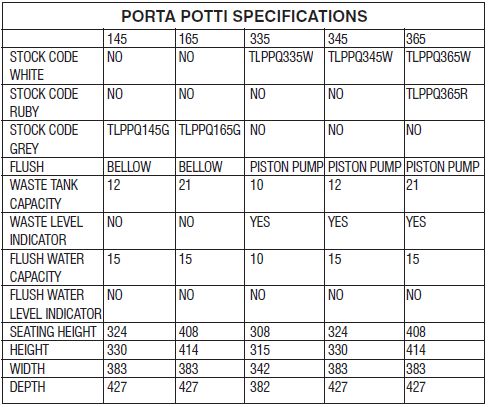 DOMETIC CT3000 CASSETTE
CT 3000 series with ceramic inlay New toilet bowl design with scratch resistant ceramic inlay, stain-repellent and easy to clean. Comfortable and aesthetically pleasing, Innovative space saving seat concept: 8 cm less depth than comparable products. The seat can also be adjusted [in 15° steps] up to 90° in both directions. More room in the bathroom. This gives more flexibility in confined spaces. Cassette tank [19 L] with telescopic handle and large, easy running wheels for convenient transport to the disposal area. Pivoting spout facilitates tank discharge. Control panel with level indicator light warns you in good time before the tank level reaches the maximum level. Visual warning signal when the tank has been removed. For vehicles without water supply the CTW 3110 toilet is supplied with an integrated flush water tank. The tank has a capacity of 7 litres and is easy to fill.
Low in weight Weighs up to 30 % less than a ceramic toilet. Dometic SK5 locker door supplied as standard with each CT 3000-series toilet. Dimensions [ W x H x D ] 382 x 672 x 500 mm . Waste tank capacity 19 litres. 12v DC.
DCTS3110 CTS is designed for connection to onboard pumped water system.
DCTW3110 CTW has integrated 7 litre flush water tank with pump
DCT3110SBT SPARE CASSETTE BASE TANK for CT3000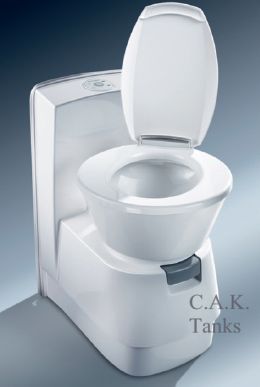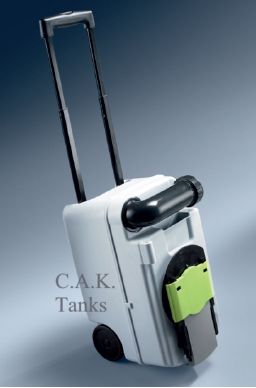 CT 3000 series: prepared for SOG exhaust system Unpleasant odours can easily become a problem in the small sanitary cabin of a campervan. This problem is efficiently solved with the SOG toilet ventilation system. It provides cleaner, fresher air
by exhausting odorous gases to the outside via flexible tubing. Both CT 3000 models are prepared for installation of the SOG system so that it can be retrofitted with ease.
Dometic 970 series portables
Small, but a big performer: handy and space saving, the 970 series adds hygienic comfort to your recreational vehicle. Many sensible functions are contained in the smallest possible space to ensure you can enjoy home-like comfort when travelling. Portable toilet in two sizes and two colours Push-button control for powerful flushing with less pumping Extra-strong 360° pressure flush for effective cleaning. 8.7- litre flush water tank – sufficient for 27 flushes. Safety through overfill protection and tank level indicator. Ingenious disposal system: extra-long, pivoting spout and vent openings for clean, splash-free discharge. 972 - 333W x 317H x 387D 9.8 Ltr waste tank. 976 - 333W x 387H x 387D 18.9 Ltr waste tank.
DPT972G 972 WHITE/GREY
DPT976G 976 WHITE/GREY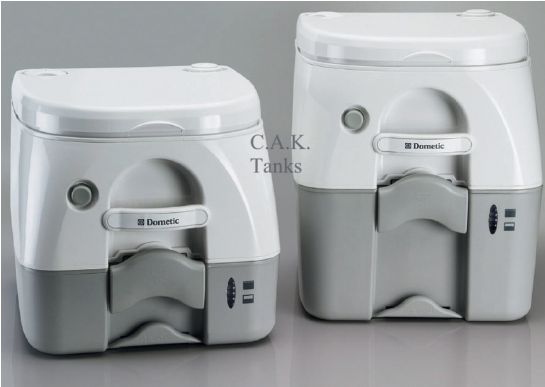 DOMETIC 966 TOILET
Full size seat & lid for comfort & support. Sturdy construction-one piece tanks won't leak. Bellows flush 9.8 ltr fresh water capacity. 19 ltr holding tank capacity.

Size 394H x 368W x 419D DPT966
Permanent installed RV type Toilets with Underfloor holding tanks
THETFORD AQUA MAGIC V
The Thetford Aqua Magic V is a modern, economical model that is easy to install and is operated by one two stage lever at the top of the toilet. This toilet can be supplied in two heights. In the case of the high model the waste tank is installed under the floor, and with the low model it is installed above the floor when used in boats.
Features:
* Finish: white
* Hook-up to vehicles central water tank: yes
* Hand operated by a 2 stage lever
* Better flush – full bowl coverage
* Waste tank capacity: dependent upon vehicle
* Flush water tank capacity: dependent upon vehicle
* Depth 455mm x Width 383mm x Height 5L 329mm, 5H 445mm
TLTAM5L Aqua magic V low hand lever operated white
TLTAM5H Aqua magic V high hand lever operated white
THETFORD BRAVURA
The Thetford Bravura is a floor mounted, fresh water-flush toilet. Flush water for the Bravura is drawn from an independent pressurised water supply. Waste is released into a permanent holding tank, which is installed below the floor, and is drained off outside the caravan or motorhome with the slide valve. Low model suitable for boats with above floor holding tank.
Features:
* Finish: white * Hook-up to vehicles central water tank: yes
* Convenient single-foot-pedal operation * Powerful pulsating flush with full bowl coverage * Comfortable seat and height * Deep bowl so less splashing
* Stylish design and smooth surface allowing easy cleaning
* Easy installation and access of parts * Available in high and low profiles
| | |
| --- | --- |
| | |
| TLTAMBH Aqua magic Bravura high pedal operated white | TLTAMBL Aqua magic Bravura low pedal operated white |
THETFORD ELECTRA MAGIC
This is a recirculating toilet suitable for buses and touring units. A silent toilet that never gets blocked. This model does not require a separate waste holding tank nor
a connection to a water supply line. The toilet is charged with clean water and toilet additive. The pump recycles the fluid and solids are collected by a double filter
system. The double filter system takes away any risk of obstruction. An easy to read level indicator signals the initial charge level and warns when the waste tank is
almost full. A valve underneath the toilet is opened to evacuate the waste into a holding tank, and the process starts again. The tank is then emptied at an authorised
disposal point. Toilet can be operated on it own capacity without a holding tank if the installation needs require this.
Features:
* Finish: parchment
* Flush: electric (12 or 24 Volt versions)
* Initial charge volume (fresh water + toilet additive): 9,2 L
* Waste capacity: 14,3L
* Total unit capacity: 23,5L


TLTEMAG12

Electra magic recirculating 12 v
TLTEMAG24

Electra magic recirculating 24 v
ACCESSORIES FOR AQUA MAGIC, MKIV, MKV
STARLITE, ELECTRA MAGIC & BRAVURA
| | | |
| --- | --- | --- |
| | | |
| 4100 EXTENSION HANDLE 10" FOR 08707 | 8707 2X SLIDE EZ-VALVE REQUIRES 4100 | 8706 2H SLIDE EZ VALVE STANDARD VALVE |
| | | |
| --- | --- | --- |
| | | |
| 1659 BOND ON ADAPTOR TANK TO EZ-VALVE | 1959 THREAD ON ADAPTOR EZ-VALVE | 1639 BAYONET RING |
| | | |
| --- | --- | --- |
| | | |
| 1665 CURVED HOSE BAYONET ADAPTER | 2593 BUMPER HOSE BAYONET ADAPTER | 1664 BAYONET CAP |
| | | | |
| --- | --- | --- | --- |
| | | | |
| 8648 MALE THREADED 3" PIPE 10" | 8529 MALE THREADED 3" PIPE 8" | 2621 CLOSET FLOOR FLANGE FEMALE THREAD | 2620 CLOSET FLOOR FLANGE MALE THREAD |
| | | |
| --- | --- | --- |
| | | |
| 1952 DOUBLE ENTRY COLLECTOR | 7580 CLOSET FLOOR FLANGE PLAIN (NPT) | |
| | | | | |
| --- | --- | --- | --- | --- |
| | | | | |
| 8737 SLIDE VALVE TO ADAPTOR SCREWS | 1457 ADAPTOR SEAL BOND ON SLIDE VALVE | H7S 3" FLEXI DISCHARGE HOSE / MTR | HC7 3" HOSE CLIP FOR H7S DISCHARGE HOSE | H7FL 3" LAYFLAT DISCHARGE HOSE / MTR |
PERMANENT TOILET DISCHARGE HOLDING TANKS
Toilet discharge holding tanks are available from our vast range of standard
sizes. See tank illustrations at beginning of catalogue. A simple installation
scheme drawing is published here, see right. Technical and system design
advice available. Full range of Thetford spares and accessories supported.

WE ARE THETFORD'S PREMIER SPARES & SERVICE CENTRE. WE ARE ABLE TO SUPPLY ANY THETFORD SPARE PART THAT IS CURRENTLY AVAILABLE & QUITE A RANGE OF OBSOLETE PARTS. WE HAVE THE FACILITIES TO INSTALL SERVICE AND REPAIR THE FULL THETFORD PRODUCT RANGE.
C.A.K. Tanks Water Systems
We have specialised for over 40 years in the manufacture & supply of water storage systems for original equipment and aftermarket installation.

We developed the first plastic water storage tanks for Caravans, Motor-Homes and Marine applications, with our own revolutionary designs and patented C.A.K Tanks Anti-Surge Baffles.
Years of continuous design, development and manufacture have formulated the renowned quality and reliability of C.A.K Tanks Water Storage Systems.

Our vast range of solutions & superior technical knowledge has enabled us to develop our ever expanding range of water systems making C.A.K Tanks THE COMPLETE WATER SYSTEMS SPECIALIST
Leisure Equipment Specialist
Interior Equipment & Spare Parts
To complement our water systems expertise we also have extensive stocks of :- Water pumps, Taps, Showers, Fittings, Hose, Air and Water Heaters, Vents, Webasto Heating systems, LED Internal and external lighting, SMEV high quality kitchen appliances, CBE high specification Electrical control and charging systems, Thetford Cassette, C200, C250, C400, Porta Potti, Galaxy, Starlite, Mk IV, MK V, Electra Magic and American Toilet Range, Thetford Chemicals and Maintenance products, Vitrifrigo DC Compressor Freezers & Refrigerators, Dometic & Thetford Gas 3 way Refrigerators, Air Conditioning, Bathroom Sinks, Cabinets & Shower Trays, Table legs, Catches Locks, Furniture Fittings, Seat swivels, Seitz Heki Rooflights, SmartliteTM Interior Lighting Range, Boat and Caravan Mains Electric Water Heaters, Reversing Cameras, Bunk ladders, Internal cab window Thermal ScreensTM, Bilge and Macerator pumps, Cassette Blinds, Hatches, Doors, Roof vents, Cassette Blinds, Stabilising Jacks and many more items too numerous to list.
C.A.K TANKS THE PREMIER SOURCE FOR ESSENTIAL MOTORHOME, CARAVAN & MARINE EQUIPMENT.
THE COMPLETE WATER SYSTEMS AND INTERIOR EQUIPMENT SPECIALIST
E & OE All Trademarks acknowledged. All prices are correct at time of going to press and are inclusive of VAT. All prices are subject to change without notice. All prices are quoted in Sterling. All offers are subject to availability. Please note that carriage charges are based on the Mainland UK only with some postcode exceptions.